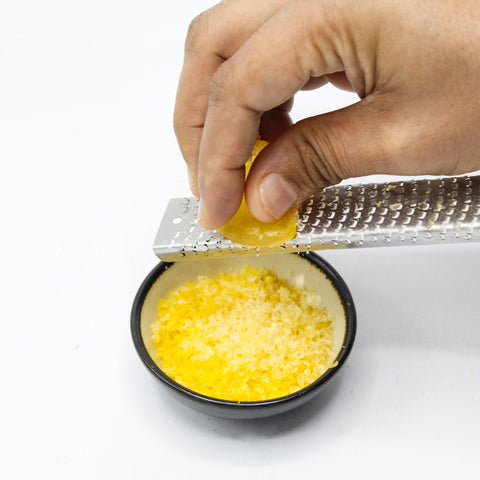 The Bombay Canteen
Holy Smokes - Yolks!
Flavour Notes
Smokey, buttery and fatty – almost cheesy!
Inspiration
Back in the day, when Chef Hussain worked at Eleven Madison Park, they created a miso-cured egg yolk and served it with a Green Tea salad. That is where he first learned about this creative recipe. In India, however, we cannot make miso as easily as in the United States, so Chef Hussain replaced it with a simple salt and sugar mixture.

Process
Start with 60 raw yolks (chicken) and separate them from the whites. (Changing the type of egg will naturally alter the flavour and taste)
Nestle the yolks in a mixture of salt and sugar (2 kgs of each)
Cover the yolks with a second layer of salt and sugar on top
Leave the yolks for 5 days in this mixture in the refrigerator
Note: Through the process of reverse osmosis, the salt and sugar begin to cure the yolks. As they draw out most of the moisture, the yolks harden entirely. They become almost transparent and golden in colour. If the yolks are too sticky, you will know the curing process has failed. Try again! Don't give up. After the yolks solidify, remove them from the salt-sugar mix. Throw away that water for sure! Run the yolks under cold water Line the hardened yolks on a tray and smoke them over coconut husk. This particular husk gives you the best type of smokiness. It is also very Indian and connects quickly to our South Asian taste buds.
Once smoked, place the yolks back on the tray and put them in the oven to dehydrate them on a really low temperature (50*C). This removes the remaining moisture. Make sure the oven temperature is low so that you do not overcook the yolks.
The Bombay Canteen uses this for
We grate the hardened yolks on the Beef Tartare to finish off the dish. Chef Hussain describes these smoked yolks as truly "unique and cool." Even though he discovered this process early in his career, he waited for the perfect dish before using the smoked yolks. He felt they deserved their time and place. With the Beef Tartare, the smoked yolks have finally made their debut.
You can use this for
You can grate smoked yolks on salads, pastas, burgers – anything that tickles your fancy! You can also stop the process at the curing stage, if you do not want to smoke them.